PAKUBUWONO RESIDENCE
We have in Basswood, Cottonwood, Eaglewood, Ironwood and Sandalwood.
Find a luxury in the lush of 35,000 square meter garden in South Jakarta, only a few minutes from Sudirman Central Business District.
Lease available starting January 2006 for:
2 Bedrooms Deluxe, 152 square meter, nett
2 Bedrooms Executive, 184 – 186 square meter, nett
3 Bedrooms Suite, 207 – 209 square meter, nett
3 Bedrooms Grand Suite, 270 square meter, nett
Location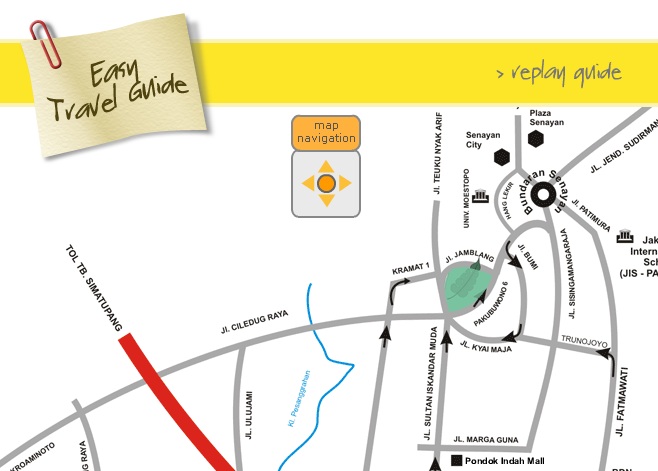 Outdoor Facilities
Extensive Landscape, Garden & Pools approx. 35.000 sq. meters
approx. 1.0 km Track : Walking, Jogging, Bicycling
Children Playground with Modern Equipments
Tennis Courts
Mini Soccer Field
Golf Putting Green
Basketball Court
Amenities and Services
Private Elevators
2 or 3 assigned Parking Spaces
Landscaped garden and Gazebos
Handicap Friendly
House Keeping / Maid Service (on Request)
Unfurnished and Furnished Units for Lease
Indoor Facilities
– Fitness Center
– Spa & Sauna
– Café, Gallery & Library – The Paprika Café
– Heated Lap pool
– Indoor Badminton Court
– Indoor Squash Courts
Business Center
Video Conferencing Room
Pre-School & Child Care
Mini Market – Star Mart
Laundry – Martinizing
Pharmacy – Guardian
Florist
ATM Arcade
Furnishing – Citi Home
Advanced Technology
Hi-Speed Internet Connection
Wi-Fi Ready
Color Video-Phone
Cable TV & MA TV
100% Back-up Gen-Set
Public Address System (Emergency Public Announcement System)
Life Safety System
Sprinklers
Fire Extinguisher / Hose Reels
Smoke & gas Detectors
Fully Addressable Fire Detector
Security Procedures
24 hours Security Check at the Main Gate, Entry to Buildings, and Lobbies
Security Check Points
CCTV Surveillance
Security patrol 24 hours
PAKUBUWONO VIEW
The Pakubuwono started its first project in 2002 with The Pakubuwono Residence, a premier apartment complex in Kebayoran Baru, Jakarta, the Capital city of Indonesia. The construction of the apartment was not only marked by the high quality of the architecture and interior finishes but also distinguished itself with the large area for landscape devoted to gardens, water features and outdoor facilities. This apartment become an ideal home for many of Jakarta's emerging urban families. It's popularity with consumers can be seen by its occupancy rates (nearly 100%) and it has becomes the preferred homes for any expatriate families in Jakarta. The Pakubuwono View with 382 residential units consisting of 2 bedrooms and 3 bedrooms units.
The intention of this development is to achieve the balance between the luxurious building quality and the beauty of the natural environment. Within the 1,4 Ha, a green space of 1,2 Ha will be a dedicated landscape with green tropical gardens, a generous main pool with a children swimming pool, a unique playground, an attractive tennis court, a comfortable gazebos, an enjoyable BBQ area and a private jogging track. The quality of the interiors relates to the selection of the finest material that nature has to offer with the best man man fabrics.
The Pakubuwono View is set to start construction in 2008 and will be completed in September 2010. The detailed design process and the selection of the material will set a new standard of premium apartment, a prefect combination between nature and living space.
All is presented for you to fullfilling your dream…….. We present our point of view……..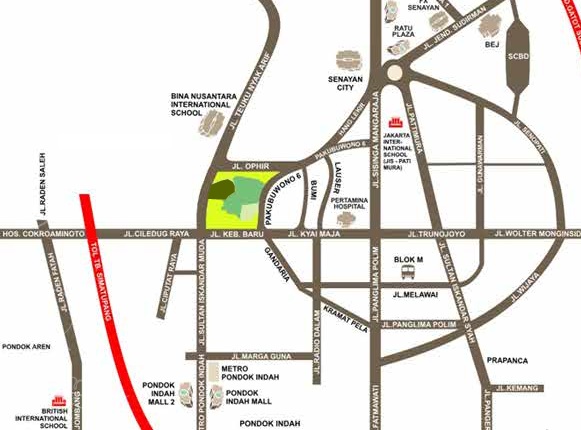 Why Call IAN?
If You like Pakubuwono Residence & Pakubuwono View, can call ian at 0858.111.777.28
Ian is one of the Professional Property Consultant, with provides many options to suit your needs. If You first time in Jakarta and worried about many things such as "language" and "do not know the way", just call ian so i could pick up You at the hotel to see a location Apartment or House that may be suits for You in Jakarta.
You do not have to worry about fee or commission because ian get paid by Landlord or Apartment.